Gyuto Japanese Chef Knife VG10 Core Damascus Steel 73 Layers Wood Handle Kitchen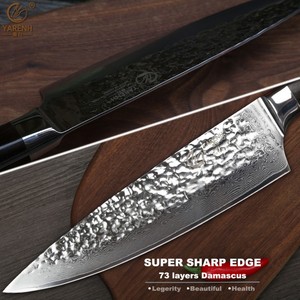 ---
Damascus Steel Professional Gyuto Knife
Blade Material: Damascus steel.    
Handle Material: exquisite  ebony wood handle
Overall Length:343 mm;  Blade length: 215 mm ;  Handle length: 128 mm            
Blade Thickness:  2.3 mm; Blade Wideness: 55 mm 
Hardness: 58-62 HRC
Sharpness level: the level of cutting force: 6.0-8.0 N 
N.W.: 275 g                    
Packing:  Gift Box
Handle material: Using materials of ebony wood; no fading, shrinking or modifying;
Blade material: The blade is made of 73 layers of Damascus steel; the 10Cr15CoMoV high carbon steel is selected for the steel core whose hardness is stable at 60 ± 2HRC, showing its excellence in high sharpness and durability.
Design: The handle, knife, and blade are designed in European and American contracted style, which is fashion, simple and full of artistic. 
Handle: The handle adopts the ergonomic design of streamline and anti-slip function, which is comfortable and safe to use.
Blade type: The double-edged blade and slightly curvature design are suitable for all kinds of users.
Artistry: With high-quality 73-layer Damascus steel, the steel cascade shows smooth, delicate, natural, beautiful and highly artistic lines.
Blade and handle do not contain harmful elements; 
The blade has a strong anti-rust function; 
Knife face is treated with the mirror which is easy to clean so bacteria will not grow on it.   
KitchenWorlds is a one-stop shop for high-quality Knives.
In our store, you will find a variety of Knives for decent prices.
As a professional business, we are investing a lot of resources to build a long-term relationship with factories and suppliers all around the world.
We are providing nothing but the best products for decent prices and with great customer support.
For any assistance, please feel free to contact us!  
Shipping
Orders will be fulfilled by the best global warehouses right away and a tracking number is provided for every order.
Returns
Return accepted, Item must be returned unused and in original packaging and condition. You are welcome to review our Return Policy.
Contact Us
We are providing great customer support, feel free to contact us anytime!